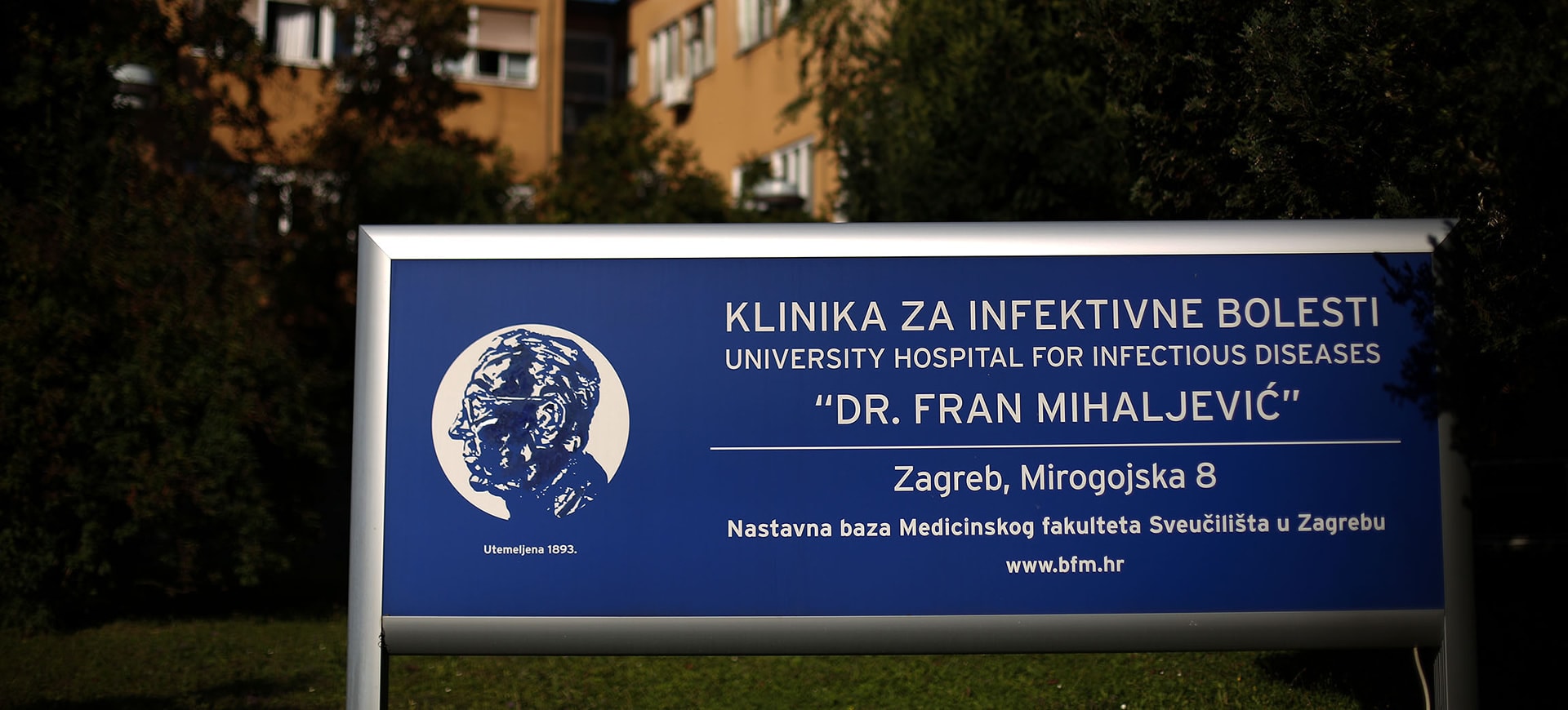 The University Hospital for Infectious Diseases (UHID) is the leading institution for diagnostics and treatment of infectious disease in Croatia and the surrounding region. It is a tertiary care provider that treats over 7,000 inpatients and 65,000 outpatients per year, serving the catchment area of approx. 1 million (the population of the city of Zagreb and the Zagreb County), but also patients from other regions in Croatia and neighboring countries that are referred to the hospital.
UHID is affiliated with the University of Zagreb School of Medicine and School of Dental Medicine and is a teaching hospital for undergraduate and postgraduate students of medicine, dental medicine and nursing as well as medical doctors specializing in other medical fields – clinical microbiology, epidemiology, internal medicine, neurology, pediatrics, etc.
With 232 beds (172 for adults, 60 for children), twelve clinical departments (including adult and pediatric ICUs) and six diagnostic departments, its infectious disease focus is unique, and provides the ability to manage patients harboring a wide variety of pathogens, conduct research with modern diagnostic and analytical tools. Central diagnostic facility with laboratories for clinical microbiology, medical biochemistry, hematology and coagulation, clinical immunology and molecular diagnostics as well as Biosafety Level 3 and Biosafety Level 2+ laboratories facilitate the involvement of hospital researchers in collaborative research projects.
As a leading institution for infectious diseases in Croatia, founded in 1893, UHID also serves as the national reference center for the following areas of expertise: diagnostics and treatment of infectious diseases, viral hepatitis, HIV-infection, urinary tract infections, antibiotic resistance surveillance, tropical and travel medicine and extracorporeal membrane oxygenation (ECMO) in patients with acute respiratory distress syndrome (ARDS).
Some of the currently ongoing international projects and collaborations include
• A center of competency in molecular diagnostics (CEKOM), (EU/European Regional Development Fund)
• Strengthened International HeAlth Regulations and Preparedness in the EU – Joint Action (SHARP JA), (EU/CHAFEA: 848096)
• New Cytomegaloviral vaccine vector concepts (MCMVaccine), (Helmholtz Association: PIE-0008)
• Center of Excellence: Virus Immunology and Vaccines (CerVirVac)
• Platform for European Preparedness Against (Re-)emerging Epidemics (PREPARE), (EU/FP7: 602525) – WP3: Multi-centre EuRopean study of MAjor Infectious Disease Syndromes (MERMAIDS)
oMERMAIDS-ARBO: Arboviral compatible febrile illness
oMERMAIDS-ARI: Acute respiratory infections (ARI)
• Evaluating mHealth technology in HIV to improve Empowerment and healthcare utilisation: Research and innovation to Generate Evidence for personalised care (EmERGE), EU/Horizon2020
Clinical departments
Department for Acute Respiratory Tract Infections
Department for Urogenital Infections
Department for Gastrointestinal Infections
Department for Viral Hepatitis
Department for Skin and Musculoskeletal System Infections
Department for Infections in the Immunocompromised
Emergency Department
Department for Intensive Care and Neuroinfections
Department for General Infectious Diseases with Day Hospital
Department for Pediatric Infectious Diseases (Division for newborns and infants, Division for young children with PICU, Division for preschool and school children)
Diagnostic departments
Department for Clinical Microbiology (Division for bacteriology, hospital infections and sterilization, Division for virology, Division for parasitology)
Department for Medical Biochemistry, Hematology and Coagulation
Department for Clinical Immunology and Molecular Diagnostics
Department for Radiology and Ultrasound Diagnostics